Mission Statement:
Lead Grady County's efforts to prepare for, mitigate, respond to, and recover from emergencies and disasters.
Vision: We will help create a disaster resilient Grady County where everyone matters.
Values: Comprehensive * Progressive * Risk-driven * Integrated * Collaborative * Coordinated * Flexible * Professional
Goals: Strengthen Preparedness * Strengthen Response * Strengthen Recovery
The Grady County Emergency Management Office works to create a safer county and region by collaborating with our stakeholders to increase Grady County's ability to prepare for, respond to, and recover from natural or man-made disaster and emergencies.  GCEM coordinates with local, state, federal, private, non-profit entities, and community groups to minimize the impact of all potential hazards facing Grady County. GCEM strengthens Grady County's preparedness through comprehensive disaster planning, hazard identification & risk assessment, hazard mitigation, protection of critical infrastructure, and enhancement of community preparedness. GCEM enhances disaster response by managing the Grady County Emergency Operations Center. The GCEM is improving inter-agency coordination and information sharing, resource management, and emergency public information and warning. These activities improve Grady County's ability to recover from a disaster, reducing the time and cost required to return to normal operation and making Grady County a more resilient County.
The Grady County Office of Emergency Management is pleased to announce that we now accept passport applications on behalf of the U.S. Department of State on May 20th, 2019. Anyone planning international or domestic travel may apply for their passports at our office from 8:00 am to 3:00 pm Monday, Wednesday, Friday at 217 N. 3rd Street in Chickasha.
Attention: The Grady County Passport Application Facility accepts applications  "BY APPOINTMENT ONLY" Please call our office at 405-222-2339 to schedule an appointment. Be advised that the normal time period could be 10-12 weeks for normal delivery , some delays can be expected.  For further information please call the EM office at 405-222-2339. (Updated March 16, 2021). To ensure a speedy process please have all the required paperwork, documents with you when you come to our office. We do not accept cash or credit cards; only personal checks, cashier checks or money orders.

For application forms, information on documentation required, fees, and a wealth of other passport and international travel information, visit the only official website for passport information- travel.state.gov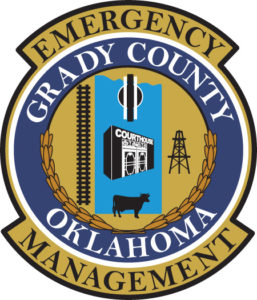 Staff
| | |
| --- | --- |
| EM Director | Dale Thompson |
| Deputy  EM Director | Amanda Wilkerson |
| EM Specialist- Volunteer | Paulette Nicholas |
| EM Specialist- Volunteer | Carl Wilkerson |
EM Specialist- Staff                                Rainbow Wilson
Contact the Grady County Emergency Management Office
Email: gradyema@gmail.com Follow us on Facebook. Grady County EM Facebook Page Follow our CERT (Community Emergency Response Team) Facebook Page Phone: 405-222-2339 Hours: Monday- Friday 7:30 AM to 4:00 PM For Emergencies call the Sheriff's Dispatch at 405-224-0984. They can contact us.
Emergency Management Links
National Links
Oklahoma State Links