Mission Statement:
Lead Grady County's efforts to prepare for, mitigate, respond to, and recover from emergencies and disasters.
Vision: We will help create a disaster resilient Grady County where everyone matters.
Values: Comprehensive * Progressive * Risk-driven * Integrated * Collaborative * Coordinated * Flexible * Professional
Goals: Strengthen Preparedness * Strengthen Response * Strengthen Recovery
The Grady County Emergency Management Office works to create a safer county and region by collaborating with our stakeholders to increase Grady County's ability to prepare for, respond to, and recover from natural or man-made disaster and emergencies.  GCEM coordinates with local, state, federal, private, non-profit entities, and community groups to minimize the impact of all potential hazards facing Grady County. GCEM strengthens Grady County's preparedness through comprehensive disaster planning, hazard identification & risk assessment, hazard mitigation, protection of critical infrastructure, and enhancement of community preparedness. GCEM enhances disaster response by managing the Grady County Emergency Operations Center. The GCEM is improving inter-agency coordination and information sharing, resource management, and emergency public information and warning. These activities improve Grady County's ability to recover from a disaster, reducing the time and cost required to return to normal operation and making Grady County a more resilient County.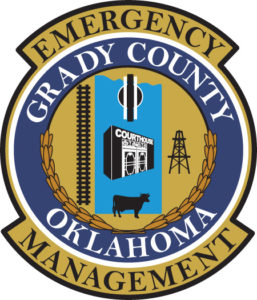 Staff
| | |
| --- | --- |
| EM Director | Dale Thompson |
| Deputy  EM Director | Amanda Wilkerson |
| EM Specialist- Volunteer | Paulette Nicholas |
| EM Specialist- Volunteer | Carl Wilkerson |
Contact the Grady County Emergency Management Office
Email: gradyema@gmail.com Follow us on Facebook. Grady County EM Facebook Page Follow our CERT (Community Emergency Response Team) Facebook Page Phone: 405-222-2339 Hours: Monday- Friday 7:30 AM to 4:00 PM For Emergencies call the Sheriff's Dispatch at 405-224-0984. They can contact us.
Emergency Management Links
National Links
Oklahoma State Links